Counseling Health and Wellness Center
About
Mission
The Counseling, Health & Wellness Center is a welcoming and accepting environment that strives to empower William Paterson University students to make informed decisions about their physical and emotional well-being in order to promote lifelong health.
Through primary health care, personal counseling, health education, prevention services and co-curricular educational opportunities, the Center assists students in achieving success in their academic experience and life goals.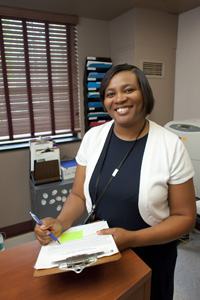 Location & Hours
Located at Overlook South, 1st Floor. (Between Matelson and White Hall)
Fall and Spring Semesters:

Summer:

Monday: 8:30am to 6:00pm

Tuesday - Friday: 8:30am to 4:30pm

Monday: 8:00am to 6:00pm

Tuesday - Thursday: 8:00am to 5:15pm
Meet The Staff
Staff Biographies
The Counseling, Health & Wellness Center is staffed with psychologists, social workers, a psychiatrist consultant, supervised graduate students, a nurse practitioner, registered nurses, and a consulting physician together with an excellent administrative staff.
---
Jill Guzman, DNP, CPNP - Director
Dr. Jill Guzman is a Pediatric Nurse Practitioner and Director of the Counseling, Health and Wellness Center. She joined WPU in 2003 and has been instrumental in the transformation of the center to become a comprehensive and holistic healthcare facility providing innovative care to all WPU students. She has implemented a comprehensive sports medicine program for athletes on campus and works collaboratively with Department of Athletics and Club Sports to ensure the safety of students engaging in sports. She has a special interest and expertise in concussion treatment/management and has conducted research on concussions and postural stability testing. Her past experiences include Emergency Medicine both in rural and suburban settings, Primary Care Pediatrics, Healthcare Administration and Emergency Mental Health Services. Some of her professional accomplishments include implementation of Peer Health Theater Program, Sexual Assault Prevention Educator, Hudson County Chairperson of Teen Pregnancy Prevention Program, forensic examiner for child abuse cases, and Implementation of Disaster Plan/Mass Immunization Program for university community. Guzman graduated from Villanova University with a Bachelors of Science in Nursing in 1995, and from Seton Hall University with a Master's of Science in Nursing, Pediatric Nurse Practitioner in 2000. She continued her studies here at William Paterson University and graduated with a Doctor Nursing Practice degree in January 2014.
Daisy Rodriguez-Kazanjian, M.S.W., L.C.S.W. - Associate Director
Daisy joined the staff of the Counseling, Health and Wellness Center in 2002. She has been practicing clinical social work since 1992 and is New Jersey state licensed to provide psychotherapy treatment services since 1999. She holds a post masters certificate in group work treatment and is a clinical associate member of the American Group Psychotherapy Association. Her areas of specialized training are in the assessment and treatment of childhood sexual abuse, assessment and clinical case management of chronic and persistent mental disorders, and group treatment of depression and anxiety. She has a specialized interest in transcultural treatment perspectives of first and second generation Latino college students.
---
Michelle Aranez - Administrative Assistant
Michelle joined the Counseling, Health & Wellness Center staff in November 2015.
Avery Browne, D.O. - Physician
Dr. Browne joined the Counseling, Health & Wellness Center in January, 2010. He comes to the University with training both in Family practice and Sports Medicine. He is a graduate of New Jersey Institute of Technology, Rutgers University and New York College of Osteopathic Medicine. Dr. Browne has extensive and diverse training in sports medicine and family practice. Some of this includes providing Rural Medicine in Dillingham Alaska and Emergency Room Medicine in San Pedro, Honduras. He did his Fellowship with Overlook Hospital in Sports Medicine. During this tenure he was the Team Physician for Kean University Athletics and also for several area high schools. Dr. Browne is currently an Attending Family Practice Physician at Montefiore Medical Center in the Bronx, New York, a faculty member of Albert Einstein College of Medicine, a house physician for Christ Hospital in Jersey City, NJ, and the team physician for Eastside and Central High Schools in Newark, NJ. Dr. Browne will be working one day a week in the Health Center providing sports medicine and primary care to our students.
Jasmine Clare, Psy.D. , Coordinator of the Alcohol and Other Drugs Services - Psychologist
Jasmine joined the Counseling, Health and Wellness Center in October 2012 as a staff clinician and the Coordinator of Alcohol and Other Drugs Services. She earned her doctorate in clinical psychology from the Massachusetts School of Professional Psychology. She did her pre-doctoral internship training at Alexian Brothers Behavioral Health Hospital's Self-Injury Recovery-Services (SIRS) and eating disorders program and post-doctoral training in their Adolescent Chemical Dependency Intensive Outpatient Program (CDIOP)/Adolescent Partial Hospital Program (YPHP)/Adult Center for Addiction Medicine (CAM) She has previous experience as a clinical supervisor of a residential treatment facility for children and adolescents. Immediately prior to joining the staff at William Patterson University she was employed in the YCDIOP/CAM program and had a private practice. She has specialized interest in working with trauma/sexual assault, substance abuse, eating disorder, self-injury, anxiety, LGBTQQ issues, cultural diversity, spirituality in psychotherapy and group, couples and family therapy.
Shannon Evans, LCSW - Staff Clinician
Shannon joined the staff of the Counseling, Health, & Wellness Center in October 2014. She earned her Master's degree in Social Work as well as a post graduate certificate in child and adolescent mental health from Rutgers University. She is licensed as a clinical social worker and has worked as an in-community therapist, program director and care manager supervisor within the New Jersey Children's System of Care. Her specific areas of interest include cultural diversity, adjustment issues, relationship challenges, sexuality, self-esteem,, trauma, advocay and supervision.
Denise Ginyard-Potts - Medical Assistant
Denise joined the Counseling, Health and Wellness staff in March of 2014. She earned her certification from William Paterson's Universities Center for Continuing Professional Education program. Denise also completed a three month internship in the Counseling Health and Wellness Center during her training. She is now a certified registered Medical Assistant and has over 5 years of experience working in a hospital setting providing clinical skills and exceptional patient care. Denise has a special interest in working with our students in the college campus environment.
David Goldbloom, M.D. - Psychiatrist
Dr. Goldbloom joined the Counseling, Health & Wellness Center in the Fall of 2012 after leaving Bellevue Hospital Center where he had served as the unit chief of the hospital's dual diagnosis 28-bed inpatient unit for 2 years following completion of my Addiction Psychiatry Fellowship at Cedars-Sinai Medical Center in Los Angeles. In addition to his time spent at the Counseling, Health & Wellness Center, he also consults at Treatment Dynamics, a substance abuse treatment facility for adolescents and adults in Florham Park and maintain a private practice in both Wayne, NJ and Manhattan. He is a faculty member at the NYU School of Medicine where he teachs current Addiction Psychiatry fellows and a physician specialist at UMDNJ in Newark, NJ. He completed his undergraduate degree at Northwestern University, medical school at the Albert Einstein College of Medicine, and his general psychiatry residency at Beth Israel Medical Center in New York City.
Rose Green - Office Manager
Rose joined the Counselling, Health & Wellness Center in November, 2008 as Administrative Assistant to the Counseling, Health & Wellness staff and started July 2015 as the Office Manager. She is pursuing studies in Psychology.
Carola Gremlich, BSN, RN, CBE - Charge Nurse
Carola joined the Counselilng, Health & Wellness Center in May, 2004. Carola graduated with her Bachelors of Science in Nursing from Bloomfield College. She has a work history in in-patient care, home care and community health specializing in pediatrics, internal medicine and OB/Gyn. One of the projects she is dedicated to is the free HIV testing program offered to WPU students. On her free time she enjoys instructing Zumba classes on and off campus.
Ansie Panavelil Philip, BSN, RN - Nurse
Ansie joined the Counseling, Health & Wellness, as a staff nurse, in August 2008. She is a William Paterson University alumni, graduating in 2007, with her Bachelors of Science in Nursing. Prior to joining the Health Center staff, Ansie was first a Nurse Extern and then a Registered Nurse in the Orthopedic Department at Hackensack University Medical Center. Ansie's early medical experience also includes 10 years of experience as a NJ State Licensed Emergency Medical Technician on both private and a volunteer ambulance corp. Ansie currently provides training as a certified American Heart Association BLS (CPR) & First-Aid Instructor since 2013.
Erica Rogers, Ph.D. – Psychologist, Coordinator of Training
Erica joined the Counseling, Health and Wellness Center staff in September 2015. She is a licensed clinical psychologist and coordinator of training at CHWC. Erica has worked in residential treatment, forensic outpatient and private practice settings. She earned her Ph.D. in Clinical Psychology from The Graduate Center of the City University of New York, and her B.A. in Environmental Studies from Brown University. Her professional interests include mindfulness, family therapy, animal assisted and nature based therapy, as well as supervision and clinical training. Her clinical interests include helping students navigate anxiety and mood disorders, family and interpersonal conflicts, attachment and relationship issues, psychological effects of past and present trauma, emerging adulthood and identity formation.
Ashley Rebisz, BA - Administrative Assistant
Ashley joined the Counseling, Health & Wellness Center in July 2014. She graduated from Hofstra University with a Bachelors of Arts in Psychology in 2012. She has over five years of customer service experience in a variety of settings. Prior to joining the staff, Ashley worked at Spartanburg Regional Medical Center as a Patient Access Representative when she lived in South Carolina for a year and then became a Behavioral Health Counselor for a non-profit organization where she provided direct residential support services to consumers in community residences. Ashley enjoys working with the college student population and is pursuing her graduate studies here at William Paterson University.
Katherine Rizman, M.S.W., L.C.S.W. - Wellness Coordinator
Katherine joined the staff of the Counseling, Health, & Wellness Center in November 2010 as the Coordinator of Resident Recovery. She earned her Masters degree in Clinical Social Work from Salisbury University in 2010 and graduated with a Bachelor of Arts in Sociology from Moravian College in 2007. Prior to coming to William Paterson University, Katherine provided psychological and outreach services to undergraduate and graduate students at Salisbury University as a graduate intern. She also has professional experience in the Social Service and Drug Court arenas. Her main theoretical approach is Cognitive Behavioral Therapy using a strengths based and client centered approach. Specific areas of interest include: substance abuse and addiction, eating disorders and body image concerns, interpersonal relationships, family concerns, self-esteem, decision making, and adjustment.
Fazia Sendak, APNC - Nurse Practitioner
Fazia joined the Counseling, Health & Wellness Center in January, 2011. She graduated from William Paterson University with a Bachelors of Science in Nursing and furthered her education with a Master's of Science in Nursing at Seton Hall University. She is board certified as an Adult Nurse Practitioner and enjoys providing primary and women's healthcare services to the students of William Paterson University. Fazia was a former Nurse Manager at Hackensack University Medical Center and has worked in inpatient obstetrics for over 20 years.
FAQ's
1. What are the hours of the Counseling, Health & Wellness Center?
During the academic year, the Center is open Mondays from 8:30 am to 6 pm and Tuesday through Friday from 8:30 am to 4:30 pm. During the summer, the Center is open Mondays from 8:00 am to 6:00 pm and Tuesdays through Thursday from 8:00 am – 5:15 pm. Please note that medical services are not provided after 4:30 pm on Mondays during the academic year and are not provided after 5:15 pm on Mondays during the summer.
2. Who can utilize the Counseling, Health & Wellness Center?
Any student that is currently registered for a class or classes can be seen at the Counseling, Health & Wellness Center. This includes part time and non degree students.
3. Is there a charge for Counseling, Health & Wellness services?
No, we do not take any insurance nor do we charge for visits. All students are charged a Health Service Fee (as part of the tuition/fees paid for the semester) and therefore can receive health care at no additional cost. We even offer some medication free of charge. There are some minimal charges for labs, pregnancy testing, medication and immunizations.
4. What kinds of health services are offered?
Primary Care, Women's Health, Men's Health, Sports Medicine, Sick and Injury Care, HIV/ STD Testing, On site Lab Testing and Pharmacy. You can call 973-720-2360 to schedule an appointment.
5. Who are the staff members that provide health services?
Health services are provided by nurse practitioners, a part-time physician, registered nurses and a medical assistant.
6. If I have a chronic medical condition and would like to discuss my treatment plan or have medical concerns is there someone I can talk to?
We would be glad to discuss your medical condition further and can assist you while you are on campus. You can call 973-720-2360 and ask to speak to a nurse.
7. What kinds of counseling services are offered?
Individual and group counseling services are provided to WPU students. Medication consultation and management is also provided in situations in which a student's concern cannot be resolved with counseling alone. Students who seek medication from the Center's psychiatrist must also meet regularly with a counselor. Please call 973-720-2257 to schedule an appointment.
8. Who are staff members that provide counseling services?
Counseling services are provided by psychologists, licensed clinical social workers, supervised graduate interns, and a consulting psychiatrist.
9. Is there a limit to the number of counseling sessions I can have?
No, students can have as many sessions as needed to resolve the problem.
10. If I was receiving psychological services before attending WPU, can I transfer my care to the Counseling, Health & Wellness Center?
Yes, the Counseling staff will work with previous treatment providers to take over the care of the student while the student is on campus.
11. Is the information shared kept confidential?
Yes, the records kept at the Counseling, Health & Wellness Center are completely separate from the academic record. The staff cannot share information about a student without the student's written consent unless the student is in immediate danger of hurting him/herself or someone else, or informs us that a minor child is being abused. If a student is under 18, parents do need to sign a consent form acknowledging that they are aware that the student is utilizing the services. There is an exception with regard to contraception services. Students under the age of 18 are permitted to obtain contraception without parental permission.
12. What do I do if I have a medical emergency on campus?
If you have a medical emergency on campus you can call 973-720-2300 for campus police to respond. Depending on your emergency, and time of day, you will either be brought to the Counseling, Health & Wellness Center or, if necessary, to the hospital.
13. Does the Counseling Center provide emergency services?
During business hours there is always someone available who can speak with a student in crisis. In addition, there is a counselor on call 24/7 to assist in the event of an after-hours emergency. The counselor on call can be reached at the Counseling Center main number, 973-720-2257.
14. Is there a required health form that I must submit?
Yes, there is a Health Form that each student must submit along with documentation of immunizations. All documentation must be received by August 1 for Fall Semester and by January 2 for Spring Semester. The Health Form can be found on the Counseling, Health and Wellness Center webpage or on the Admissions Website under First Year Students.
15. Does WPU require any immunizations for attendance?
Yes, all students enrolled in a program leading to an academic degree must submit immunization documentation. These are requirements set forth by the State of New Jersey. Non Resident students are required to have the MMR (Measles, Mumps, Rubella) Vaccines and Hepatitis B Vaccines. All residential students are required to have MMR Vaccines, Hepatitis B Vaccines, and a Meningitis Vaccine. Incoming first year students who do not submit the required immunization documentation, will not be permitted to register for the spring semester.
16. If I have specific questions about the immunization requirements whom can I contact?
You can call the Counseling, Health & Wellness Center at 973-720-2360 or email WPUimmunization@wpunj.edu
17. Does it matter what type of insurance coverage I have?
Counseling, Health & Wellness services are available to registered students, regardless of type of insurance coverage. We do not bill insurance companies for the services we provide in-house. If we have to refer you to an outside provider, we would work with you to make an appropriate referral based on insurance coverage. If you need to obtain health insurance please visit: https://www.healthcare.gov/
18. What does the Wellness Coordinator provide?
Our wellness coordinator offers educational programs and events on a variety of mental health and medical topics including, but not limited to, smoking cessation, alcohol and drug abuse information, the dangers of drinking and driving, and much more! Please contact Katie Rizman at 973-720-2382/ rizmank@wpunj.edu for more information.
19. Can I have someone from the Counseling, Health & Wellness Center come to speak at my class or group meeting about the services provided by the Center or about a medical or psychological topic?
Yes, we offer outreach programs to the campus community. Please contact Daisy Rodriguez, Coordinator of Outreach, at rodriguezd@wpunj.edu to discuss the potential program. She will discuss the feasibility of offering the requested program with the individual making the request. We require at least two weeks' notice for any request.