Photographs by Robin Schwartz, Assistant Professor of Photography, Featured in the New York Times on Sunday, March 18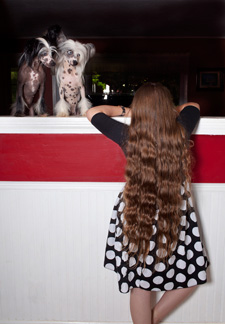 Miley and Inga's Blue Eyed Stare, Robin Schwartz/Courtesy of ClampArt Gallery, NYC
Robin Schwartz, assistant professor of photography at William Paterson University, will have new, unpublished photographs from her "Amelia's World" project published in the New York Times Magazine, Look Section, in a feature titled "Creature Comforts" on Sunday, March 18, 2012. There is also an online article and slideshow in The New York Times Lens Blog.
Schwartz's photographs can be viewed at the links below:
New York Times Magazine, March 18, 2012
Lens Blog by David Furst: Amelia and the Animals
Schwartz's photographs are held in the collections of The Metropolitan Museum of Art; Museum of Modern Art; The Smithsonian American Art Museum, Washington, D.C.; and The San Francisco Museum of Modern Art.
The Aperture Foundation published Schwartz's third monograph, Amelia's World, edited by Tim Barber. Images from this series were exhibited at Various Photographs, An Installation at The New York Photography Festival by Tim Barber and in the traveling exhibition by Flakphoto.com, 100 Portraits.
Amelia Series photographs were published magazines including Stern, Germany, Esquire, Russia, H, Spain, Fader, Juxtapoz and in The British Journal Photography, and in books such as Hayden's Review, Photographing Childhood by LaNola Stone and Hijacked, vol.1.
Schwartz was a finalist at the Hyeres 2010 Photography Festival in France. She will be presenting the Amelia Series at The National Geographic Magazine's Annual Photography Seminar this January in Washington D.C. She will give a Master Talk at LOOK3, The Charlottesville Photography Festival in June.

Schwartz earned a master of fine arts in photography from Pratt Institute. Her portfolio can be viewed at www.RobinSchwartz.net and ClampArt Gallery, NYC.
03/16/12