John C. Bogle, Founder and CEO of Vanguard, to Receive 2012 Pioneers in Financial Services Award at William Paterson University in Wayne on April 17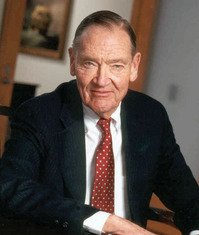 John C. Bogle
John C. Bogle, the founder and CEO of Vanguard, the largest mutual fund company in the United States, will receive the inaugural Pioneers in Financial Services Award from the Cotsakos College of Business at William Paterson University in Wayne on Tuesday, April 17 during an event on campus. The event is free and open to the public but seating is limited.
The event, which will include a presentation by Bogle, will be held at 11 a.m. in the University's 1600 Valley Road Building, Room 1012. The award seeks to recognize individuals, groups, or organizations that have dedicated themselves to genuinely improve and enhance the financial services profession while making a positive difference in their regional, national, or global communities.
"John Bogle has dedicated his life, time, and energy to providing the best possible investment options to consumers at the lowest possible prices," says Lukas Dean, assistant professor of economics, finance and global business, and director of the University's financial planning program. "He has worked to bring down costs and protect consumers. He is truly at the vanguard of his profession."
Bogle, who is known as "the father of indexed mutual funds," created Vanguard in 1974 and served as chairman and chief executive officer until 1996 and senior chairman until 2000. The Vanguard Group is the largest mutual fund organization in the world and comprises more than 160 mutual funds with current assets totaling more than $1.4 trillion. In 2004, Time magazine named Bogle as one of the world's 100 most powerful and influential people and Institutional Investor presented him with its Lifetime Achievement Award. In 1999, Fortune magazine designated him as one of the investment industry's four "Giants of the 20th Century." In the same year, he received the Woodrow Wilson Award from Princeton University for "distinguished achievement in the nation's service." In 1997, he was named one of the "Financial Leaders of the 20th Century" in Leadership in Financial Services.
He is also a best-selling author of nine books on investing, including Don't Count On It! Reflections on Investment Illusions, Capitalism, "Mutual" Funds, Indexing, Entrepreneurship, Idealism, and Heroes, published in 2010. Bogle served as chairman of the board of the National Constitution Center from 1999 to 2007, and was a member of The Conference Board's Commission on Public Trust and Private Enterprise. Born in Montclair, he is a graduate of Princeton University.
For additional information, contact the Cotsakos College of Business at William Paterson University at 973-720-2964.
# # # #
04/11/12