&
Professor Takes Expertise to NFL as Medical Spotter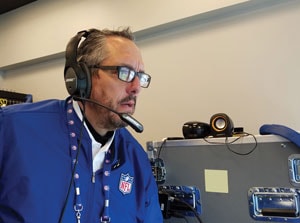 Robb Rehberg
During all the 2016 New York Jets home games at MetLife Stadium, Robb Rehberg, professor of kinesiology, sat at a post high above the action. As an Athletic Trainer Certified (ATC) spotter for the National Football League, Rehberg was responsible for spotting potential injuries on the field—mainly of the head and neck—and alerting medical personnel on the ground. This was his first season in the position.

"It's really a split-second decision," says Rehberg. "As calm as I am in emergency situations, and I usually stay calm, we have a big responsibility to make the right call at the right time. If we decide that stopping a game is necessary, we must have certainly done it for the right reason."

Rehberg, who played football for a decade and spent years as a high school athletic trainer, youth football coach, and emergency medical services chief prior to becoming a professor, has always had a strong interest in concussion management and athlete safety. One of the first athletic trainers in New Jersey to work in a hospital-based concussion program at Overlook Medical Center, he is also co-founder and president of Sport Safety International, which is dedicated to promoting safe participation in sport and physical activities through education.

"One of the things I can say from my perspective is that the NFL is doing everything it can, and using athletic trainers as spotters has the ability to make a big difference. I'm really excited to be a part of that," he says.