&
Russ Berrie Institute Marks 10th Annual National Sales Challenge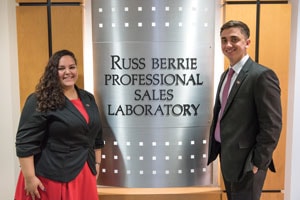 Sales students from across the nation, as well as from Edinburgh Napier University in Scotland, converged on the University's Cotaskos College of Business for the 10th Annual Russ Berrie Institute for Professional Sales National Sales Challenge, an intense series of selling competitions and workshops held on campus. In addition to the students, who hailed from 31 universities, 113 executives from 16 sponsor companies participated in the event, marking the largest executive attendance in the competition's history.
Victoria Reyes, a William Paterson senior, was named the overall individual winner. William Paterson's two-member team, comprised of Reyes and Brian Potoczak, also a senior, placed third in the University sales team category; the sales team from University of Wisconsin-Parkside placed first.
The competition is designed to strengthen students' sales skills and offer them an opportunity to network with business executives from companies around the country who judge the events and serve as sponsors. Competitions included a sales role-play event, which used a selling situation from sponsor ADP, and a speed-selling competition, which requires students to rotate through tables seated with company executives to pitch themselves for two minutes for a generic job.